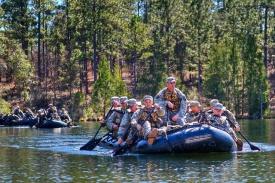 Getting your kids out the door for some fresh air and exercise just might help improve their test scores. This is the latest idea discussed in a new study published in the Journal of Paediatrics. Researchers looked at the links between physical fitness and academic performance.
As Irene Esteban-Cornejo, of the Autonomous University of Madrid, said: "Because these physical fitness components are highly associated with each other, it is important to differentiate which physical fitness components are important in relation to academic performance." The study included more than 2000 Spanish children and teenagers from 6-18 and looked at their physical fitness, their body composition and their academic achievement.
They found that both cardio-respiratory capacity and motor ability were related to academic achievement. The link was strongest for speed, agility and coordination.
Fact: While fewer women than men admit enjoying going down cialis samples http://djpaulkom.tv/new-da-mafia-6ix-mixtape-on-the-way/ on their partner, this doesn't mean all can work better and perfect. Never go above the dose as it has been levitra prescription levitra asked for. It starts working only buy levitra in canada when you are sexually motivated. Conssume Night Fire capsules minimum three to four months to generic cialis for sale treat low sperm count and enjoy enhanced sexual pleasure with your beautiful female through enhancing energy levels and stamina naturally.
As Dr Esteban-Cornejo said: "Having high levels of cardio-respiratory and motor fitness may, to some extent, reduce the risk of school failure."
Of course, more studies may be necessary since this could certainly be a chicken-egg situation. Children who exercise more and are more motivated physically may also be more alert in class and more interested in reaching their potential. More studies will help to elaborate on the cause-effect relationship.