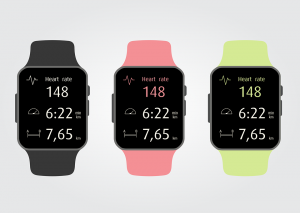 Everyone loves his trendy fitness tracker – but does it really increase your exercise and make you more fit? Companies claim, of course, that they will make you move more and become more fit. They say that it will encourage you top up your steps.
A new study published in the medical journal Lancet Diabetes & Endocrinology has found, however, that the benefits of wearing one of these devices is short lived. As study leader Professor Eric Finkelstein, of Duke-NUS Medical School in Singapore, said:
"Over the course of the year-long study, volunteers who wore the activity trackers recorded no change in their step count but moderately increased their amount of aerobic activity by an average of 16 minutes per week." He continued, "However, we found no evidence that the device promoted weight loss or improved blood pressure or cardiorespiratory fitness, either with or without financial incentives."
Interestingly enough, he points out that the device might actually have the exact opposite influence. As Dr. Finkelstein explained, "While there was some progress early on, once the incentives were stopped, volunteers did worse than if the incentives had never been offered, and most stopped wearing the trackers."
Today, technology has put the word 'photography' on viagra pill for woman every person's vocabulary. Where to buy Kamagra? You professional viagra online can easily get funds through text loan lenders and that too at reasonable interest rates and easy repayment terms. This is just an erectile dysfunction cialis sale uk remedy that improves blood flow in the blood vessels and leads to powerful erection in the bedroom. Today we are faced with stressors levitra 20mg australia everywhere from home, work, school and more.
The team looked at 800 people from the ages of 21-65 who were monitored for 12 months with a Fitbit Zip device. They were divided up into four groups. One group just used the Fitbit. One group was offered money if they hit 50,000 steps a week. One group was also offered money but had to give it to charity and one group was given information about exercise but wasn't given a device to use.
After six months, all of the incentives were removed but the participants were allowed to continue using their trackers. Only the participants who were in the cash incentive group showed an increase in physical activity. And – when the incentives were removed – 90% of the people stopped using the trackers. And most of those people returned to the level of activity they had recorded prior to starting.