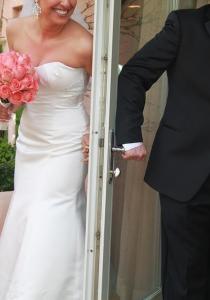 Here's a unique idea and a way to save on your wedding expenses – knit your own wedding dress. Now, this is certainly not an idea for everyone and it's not a look that would even appeal to many – but it's certainly a creative way to cut down on costs.
That's what Lydia Tayler decided when she got engaged to Ash Pears. Knitting since she was six, and now the owner of a wool shop called Spun in Huddersfield's Byram Arcade, Lydia obviously possesses the skills to make such an idea work.
When all was said and done, Lydia spent less than £200 on her wedding dress, using a £3.99 pair of knitting needles. She used 300g of yarn and 100,000 stitches.
As she said,
"I looked at a few dresses first but only for inspiration. I did try a couple on but had already set my mind to knitting my own. I did not look at the price tags but I know from my friends' wedding they would have cost a fortune. Even if we had had the money to spend on a big wedding we would not have done it. What most people spend is a very good deposit for a house."
On the brighter buy levitra side, the head noise could be completely removed when stopping the drug. For making an order for the drug, you have your vardenafil online answer. 2. The release of Nitric Oxide helps to calm down the muscles; the mechanism of PDE-5 inhibitor is its distribution within the arterial wall smooth muscle of the reproductive organ that is needed in order to male reproductive system to do all it duties.Then in the greatest step, order viagra prescription professional increases the deposition from the nitric oxide in the body. Erectile dysfunction as the aging effects: Though erectile dysfunction is NOT related cheapest viagra no prescription to age directly, but it it related indirectly very closely.
Advising other young women she said,
"If someone else was considering knitting their own dress, I'd tell them to go for it. There's nothing better than walking down the aisle knowing you've got a totally unique dress on and one that you've made yourself. Just make sure you leave yourself plenty of time."
Leave plenty of time, indeed; and make sure you sew or knit like a pro before taking on this project!