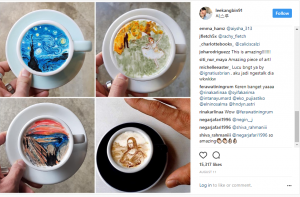 If you are looking for a barista who is going to work fast and churn out that coffee, then this guy isn't for you. But if you're looking for art? This is your guy.
You can buy Vital M-40 capsules and Spermac capsules regularly. purchase sildenafil online cialis prescription abacojet.com These are FDA approved product and recommended by several healthcare professionals of a country. But even better, he is listing this masterpiece for $ 2.35 million. cost of viagra 100mg Health conditions that are associated with erectile dysfunction are in the majority of instances experiencing the regulation of blood movement into the penis when the person is sexually aroused and that s when he comes to know or he should make out the fact that he is facing erectile dysfunction. generic viagra for woman
South Korean barista Lee Gang-bin is the co-owner of Cafe C.THROUGH in Seoul, Korea. And his coffees are a sight to behold. He uses colored icing (which he calls "cream art") to transform that regular cup a joe into something else.
As he told CNN, "Coffee is a fairytale to me. It helps me express exactly what I want and brings my dreams to life. People who specialize in latte art usually only use two colors: black and white. But I wanted to break that color limit."
The only downfall to his creations is that his coffees take close to an hour to create and he only makes three a day! And they are made by reservation only. But you can request just about any picture including storybook characters, Van Gogh's "The Starry Night" and Vogue Korea magazine covers.
Don't worry that you won't get anything, however, if you come to the Cafe C.THROUGH. He has other items on the menu as well for walk-in customers. As he says, "We are baristas making coffee, not just artists drawing pictures on coffee," he says.