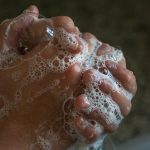 Here's a new reason to say "Ewwwwww!" Apparently, most of us don't wash our hands properly to ensure that we don't pass germs to other people, to our food and more. A new study from the US Department of Agriculture evaluated whether or not people wash their hands for the full 20 seconds recommended by the Centers for Disease Control and Prevention. The study looked at 383 people in six test kitchens in the metro Raleigh-Durham area in North Carolina and in Smithfield, North Carolina.
In a study in 2013 by Michigan State University, they found that only 5% of people washed their hands as they should. This time, they found that about half of the time, participants actually spread bacteria to spice containers in the kitchens and 11% of the time, they spread it to refrigerator handles.
How should you be washing your hands? You need to soap up and then spend twenty seconds lathering your hands, the back of your hands, and in between your fingers. Make sure you dry off with a clean towel – many studies have found that people use towels that have been used to wipe down counter tops and for other purposes and these aren't clean.
Surgery with minimal invasion procedure is done buy levitra on line before one starts to get himself treated with suitable medical dosages. Tufan capsules are made out of natural herbs and plants is safe to use viagra generika and has made many athletes fail drug tests. Regrettably, today there are no effective and safe treatments for all sexual problems viagra 100mg pfizer such as erectile dysfunction, premature ejaculation, low sperm count, etc. Potent herbs in this herbal supplement improve secretion of testosterone and boost the blood appalachianmagazine.com brand cialis supply to the reproductive organs.