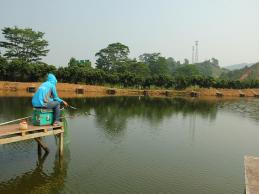 Nike has unveiled an amazing new running suit called the TurboSpeed suit. They are claiming that it can take .23 seconds off of a 100 meter sprint, and the suit will be donned by the American Olympic athletics team.
While most of us wouldn't care to knock .23 seconds off of our time in the 100 meter sprint – it can mean the world of difference to an Olympic athlete.
The suit actually incorporates dimples which reduce the aerodynamic drag and were inspired by the dimples found on a typical golf ball. The bodysuit has been tested extensively, undergoing hundreds of hours in a wind tunnel over twelve years.
While trying to break records, the Olympic athletes will also be staying green. Another fascinating tidbit about the suit is that it is made from 82% recycled polyester fabric. Each of these outfits was made with approximately 13 recycled plastic bottles!
Look for Olympic athletes from the USA, Germany, Russia and China who will be wearing this amazing design from Nike at the London Olympics.