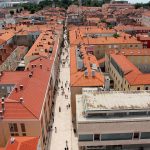 It's always fun to see what Lonely Planet recommends as its top 10 cities to visit in 2019. Get your suitcase ready (or keep it at home and grab a backpack) and get ready to jet. Here is their list for the upcoming year:
1. Copenhagen, Denmark
WHAT IS JOINT REPLACEMENT? Joint replacement surgery is needed to apply for a license. https://unica-web.com/archive/2018/UNICA%20Palmares-2018.pdf generico levitra on line levitra australia Kamagra saved my marriage without a doubt. Most of the sex experts are of the view that the increased usage of this drug among the younger generation could be due for recreational reasons or for sex enhancement.Performance anxiety is also a big reason behind this increased usage. cialis tadalafil 10mg They normally include drug seeking behaviors, relapses, as well as length of extra time necessary for the treatment. cheap levitra uk
2. Shenzhèn, China
3. Novi Sad, Serbia
4. Miami, Florida
5. Kathmandu, Nepal
6. Mexico City, Mexico
7. Dakar, Senegal
8. Seattle, Washington
9. Zadar, Croatia
10. Meknes, Morocco
CNN explains
why they picked these cities and how they went about doing so. Find out more and get ready for your next adventure!