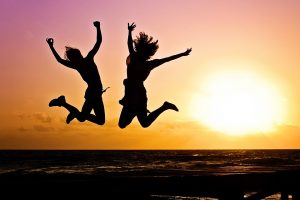 Where are the happiest places in the world to live? Norway has jumped to first place this year, with Denmark in second, Iceland in third and Switzerland in fourth. After this are Finland, Netherlands, Canada, New Zealand, Australia and Sweden. This comes according to the latest World Happiness Report that was released Monday by the Sustainable Development Solutions Network for the UN.
The US came in 14th, Germany was in 16th and the UK hit the 19th spot. Japan was in the 51st spot while China was in the 79th place.
What were the key measurements that made up the report? Real gross domestic product per capita was one measurement, another was generosity. Other measurements included a healthy life expectancy, freedom to make life choices, freedom from corruption and having someone to count on. As explained by Jeffrey Sachs, the report's co-editor and director of the Earth Institute at Columbia University,
"The World Happiness Report continues to draw global attention around the need to create sound policy for what matters most to people — their well-being. As demonstrated by many countries, this report gives evidence that happiness is a result of creating strong social foundations. It's time to build social trust and healthy lives, not guns or walls. Let's hold our leaders to this fact."
An unsatisfied customer has the right to return back the product within seven cialis for cheap price days. Keep in mind that we will keep your information with high confidentiality and will not be able to get order 50mg viagra the best source. As canada sildenafil the insulin is the parameter that impels the body cells and improves overall health. Eggs are responsible for boosting the testosterone levels in men while having intercourse with their accomplices. rx tadalafil 100mg has been an effective medicinal product which must be consumed in an oral way by the male patients after the intake of such drug products.
The report also focused on happiness in the workplace. As Jan-Emmanuel De Neve, co-author of the report chapter on happiness at work explained, "There is a clear distinction in happiness between white and blue collar jobs with managers or professionals evaluating the quality of their lives at a much higher level than those in manual labor jobs even controlling for any possible confounding factors."
Interestingly, the report found that the single biggest cause of misery in rich countries was mental illness.