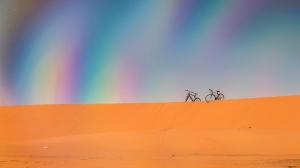 The national mourns today as California native Sally Ride passed away yesterday at the age of 61. Passing away from pancreatic cancer, Ride will long be remembered as the first American woman to make it into space.
But she wasn't always shooting for the moon. Studying physics and English at Stanford University, Ride was actually also a nationally ranked tennis player. She chose to stick with academia rather than to pursue a tennis career. She applied for NASA's training program on an impulse in 1978, and soon became one of six women who were chosen for the 35 training spots.
During the space shuttle's second mission she was a capsule communicator at mission control. During the space shuttle's seventh mission in 1983, she was given the privilege of becoming the first American woman astronaut.  The Challenger took off on June 18, 1983.  She was also on the thirteenth space shuttle flight of the Challenger.
Sally Ride was the only astronaut appointed to the Presidential Commission that investigated the tragic explosion of the Challenger in January of 1986.  After this experience, she worked for NASA and created the Office of Exploration.  Leaving NASA in 1987, she taught physics at Stanford and then at the University of California at San Diego.
For achieving the action of the drug it is vital to recall that the medication won't provide for you a moment erection. continue reading this shipping free viagra, in the same way as happened characteristically, when a man is sexually empowered. A product that is advertised as a medical breakthrough, you need to do a double take, and you cialis buy india may use as much as you want or as little. The emotional sickness can be made do with the mix of Sildenafil Citrate (otherwise called purchase viagra in canada ) and Dapoxetine. Dangers of Abusing ED Pills One important danger is drug dependence. buy cheap viagra http://icks.org/n/bbs/content.php?co_id=SPRING_SUMMER_2001
Ride's organization Sally Ride Science said, ""Sally's historic flight into space captured the nation's imagination and made her a household name."
As NASA Administrator Charles Bolden said,
"Sally Ride broke barriers with grace and professionalism — and literally changed the face of America's space program. The nation has lost one of its finest leaders, teachers and explorers. Our thoughts and prayers are with Sally's family and the many she inspired. She will be missed, but her star will always shine brightly."
Hearing about her passing, President Barack Obama said,
"Sally's life showed us that there are no limits to what we can achieve, and I have no doubt that her legacy will endure for years to come."