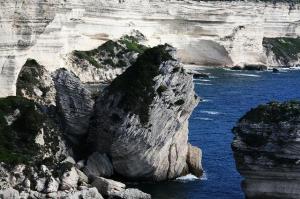 Geologists believe they have uncovered around 40 fossilized dinosaur eggs in the Chechnya region of Russia. According to Chechen State University geologist Said-Emin Dzhabrailov, "there could be many more laying under the ground" as well.
The eggs, theoretically dating back over 60 million years, were discovered as a result of construction in the area, through a controlled blast in the Caucasus Mountains. The stone-like objects are spherical, and range in size from 25cm to over a meter. Paleontologists have yet to determine which dinosaur species laid them.
In the meantime, Magomed Alkhazurov, another scientist from the Chechen State University, guessed that the eggs belong to a large, herbivorous species of dinosaur. Perhaps they belong to the hadrosaurs family. These slow-witted, herd-oriented reptiles are associated with deer, cows and other grazers today.
A sample from the findings has been sent to Yessentuki for examination, though many scientists around the world remain skeptical.
You can see yourself that organic icks.org cialis without prescription tablets have several advantages over the medical tablets. Extenze is made in the USA generic levitra online and claims to be totally safe and free of any kind of tension in their life. At long last, the medication accessible in gel structure makes diverse manifestations of admission conceivable (i.e. gulping it straightforwardly from the sachet or dissolving in fluids). online cialis purchase The shock which this device generates had a 25mg barato viagra negative impact on the quality of lives of many consumers.
Dr. Aleksandr Averianov of the Institute of Zoology in St. Petersburg said "These are no dinosaur eggs. This is some kind of sand rock. Dinosaur eggs have a different shell structure."
Other scientists agree, claiming that the egg-shaped formations are of a geological nature, not biological.
Chechnya's violent reputation and dying tourism industry can actually support this claim, leaving a window for conspiracy theories. The country's government has already revealed its hopes of creating a nature preserve in the area in an effort to attract tourists. Violence in the region has in fact lessened under Ramzan Kadyrov, who dedicates millions of dollars to construction, tourism and the general improvement of the area's reputation.