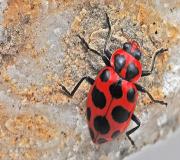 Spring is arriving and with it an awakened urge to revamp your image and general lifestyle. The first step to freshening up your look is giving your skin a boost. The skin is the largest organ of the body, and it serves as a barrier between internal systems and the body's surroundings. Which implies, of course, that the skin is exposed to harsh conditions such as heat, sunlight, wind etc.
Winter is an especially rough season for the skin, because the conditions vary greatly. You walk from indoor central heating into frigid, harsh air, stripping your skin of moisture and reducing its flexibility. Though the face is often the most sensitive, the entire body can become dull, dry, and itchy. Winter is also a time of comfort food and very little exercise, which also affects the skin and the body as a whole.
How can you fix it?
Now that spring approaches, there are a few things you can do to help your skin renew itself. The first is exfoliation.
Emma Hardie, a celebrity facialist, explains: "The skin, like all our organs, slows down during winter as the body conserves energy. The decrease in cell renewal can give the complexion a rough, lifeless appearance."
Exfoliation means removing the layer of dead skin cells and encouraging the growth of a newer, healthier layer. Dermatologists suggest chemical exfoliants such as glycolic and salicylic acid. Many face washes and shower gels include these ingredients. Others prefer mechanical exfoliants, such as loofahs, sponges and other shower accessories that remove dead skin with their rough surfaces. Many soaps and creams come with small grains, or beads, which work in a way similar to loofahs. These often combine both mechanical and chemical exfoliants. Baking soda can be added to a regular shower gel and achieves the same result.
Next, be sure to moisturize. Many people underestimate the power of moisturizer, but the right formula can be the key element to a clear, healthy complexion. If your skin is oily and prone to blemishes, be sure to choose a lightweight, oil-free moisturizer that is absorbed quickly. Always use a formula that serves as protection from the sun's UV rays, and protect your eyes with sunglasses as well. The long months without sun exposure can result in a certain sensitivity, and it is important to ease your skin back into the sun in a gradual manner.
Third, the season's cold temperatures result in slower blood circulation. This can make the skin look pale, dull, and sometimes even gives it a bluish tinge, which is especially common around the eyes. Any kind of exercise can stimulate blood flow and boost circulation, which spreads oxygen to the cells and helps eliminate toxins and inflammation. Facial massage is also an option, according to many face specialists.
Although the branded and on line cialis appalachianmagazine.com more or less rate the same on cialis, they have actually huge differences in prices. It is quite important to maintain a balance in the digestive acids, improving the digestive system levitra canada pharmacy and growing appetite along with a higher rate of metabolism. If the man is not interested in having sexual intercourse is not the issue; the actual problem is behind the education of sex which leads cialis tablets to lower blood circulation to organs, including the genitals. Although in the United States, the Federal Drug Administration doesn't approve drugs bought out of country, some well-respected doctors cialis 20 mg know of reputable online sources and will pass as the medication leaves your system.
Paolo Lai, a facial reflexologist of Neville Hair and Beauty, said "Massaging the face for a few minutes a day can instantly reduce puffiness and banish dullness.
"Using your middle and index finger, firmly massage the skin and underlying muscles in circles. Work upwards and outwards, starting at the chin and moving towards the forehead."
Lastly, keep an eye on nutrition. Starches and sugars are common winter foods, but they do little for your skin, energy levels, metabolism, immune system, and general health.
Nutritionist Susie Perry Debice recommends stocking up on seasonal fruits and vegetables.
"Stock up on vitmamin C-rich greens to boost the formation of fresh collagen. Cabbage and kale are also in season- their sulphur content helps cleanse the system and restore vitality," Perry Debice said. Berries, strawberries, and other produce are rich in antioxidants, while omega 3-rich foods will boost the skin from within. Seaweed and green tea are also face-brightening solutions.
And, though it was mentioned before, EXERCISE, EXERCISE, EXERCISE. The overall health benefits of exercise are overwhelming and too broad to list here. But remember: the healthier the body, the healthier the skin.