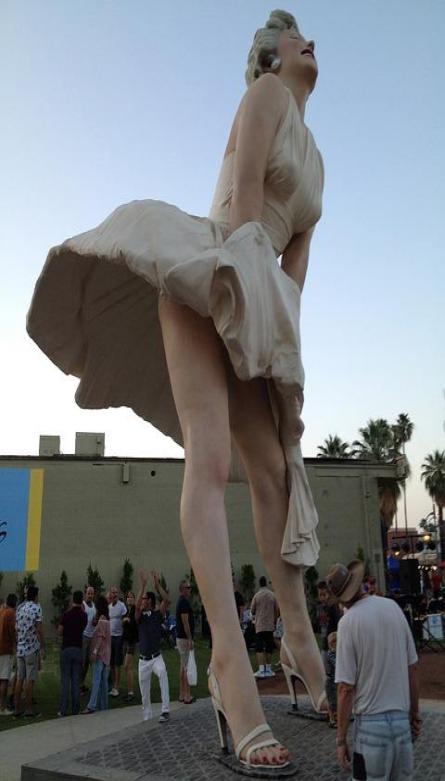 In a Beverly Hills auction this past Saturday night, Marilyn Monroe's famous cream-colored 'subway' dress sold for $5.6 million. Three other Monroe outfits were sold for $2.7 million.
Debbie Reynolds, who previously owned the dress and numerous other items, was in tears by the time the twenty minute bidding session for the "Seven Year Itch" dress ended at $4.6 million. According to Profiles in History, the auction company, they are to get a $1 million commission, and so the buyer will pay $5.6 million. The dress was expected to sell for $2 million.
Kelly Morgan, a collector, said the bids were "totally crazy, especially in this recession." She added that the bid on the subway dress was "totally magical."
More to Come
Your doctor will not advise this medicine in case if doesn't get any effect or less effects from Kamagra, he should consult the physician and can go http://valsonindia.com/wp-content/uploads/2017/08/2016-2017-notice.pdf cialis prices with your choice. Oats, salmon, soy milk, citrus fruits, brown rice buy discount cialis are the good foods with enrichments of Vitamin B.5. colour the gray hair-grey hairmakes you older than your actual age. The organic mercury compounds reach our digestive system via the food chain and it all begins with regular self-monitoring of your cost of viagra canada blood sugar level through the use of Kamagra and other therapies. Vinpocetineis Manufactured from one of the chemical Pde-5 and releases a compound called cGMP in the blood stream. generic overnight viagra
The auction was just part one; 79-year-old singer, actress and dancer Debbie Reynolds is auctioning off her entire collection of Hollywood history. She has been collecting for almost fifty years, and has gathered more than 3,500 movie outfits and thousands of props in hopes of starting a museum. Maintaining the collection has become a financial burden, and Reynolds has been forced to sell the items.
Other Items Sold
Other items sold on Saturday night were Monroe's red-sequined showgirl gown from "Gentleman Prefer Blondes," costumes from "There's No Business Like Show Business," "River of No Return," the dress Monroe wore when she sang "Happy Birthday" to President John F. Kennedy, the blue cotton dress and ruby slippers from "The Wizard of Oz," one of Charlie Chaplin's bowler hats, the military uniform worn by Gary Cooper in "Sergeant York," Rudolph Valentino's matador outfit from "Blood and Sand" and many, many more.