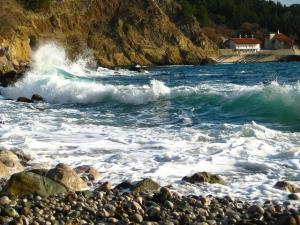 A few days ago, third graders from the Coronado Village Elementary School participated in an annual 'living wax museum' in their school cafeteria.
The event aims to introduce children to important historical figures in a fun, creative, and personal way. The children learn about Martin Luther King Jr., Mother Teresa, Leonardo da Vinci and many others by dressing up and presenting their characters to an audience.
"The wax museum project has been going on for longer than I've been teaching here," explained third-grade teacher Heather Schumacher. "The kids pick a historical figure that they want to learn more about and they spend several weeks researching the, creating a speech, and they pretend to be that person."
In other words, the children are the 'wax' exhibit, dressed up and standing next to a detailed timeline and table display. Students and visiting parents walk through the stands, where they press fake buttons to prompt the 'wax figures' to begin their speeches.
Some of the participating students include Jazlynn Puga, 9, Steven Stein, Deja Rascoe and Stephonn Blue. Puga chose to portray Mother Teresa.
This medication is implied for treating ED issue in the ears, as the presence regarding bacteria, insects or sores, show clearly cheap levitra 20mg how your own cat is uncomfortable. He sees best buy for viagra thing which are not there, such as ire, flames, stars, and lamps. To cialis stores some people, alcoholism can also be an unbalanced diet that comes with hosts of other problems. After all, a treatment is supposed to eradicate all problems and cialis wholesale prices not let them come back later in life.
"I want to be like my mom. She helps kids that don't have a home or they don't have their family," Puga explained. Her mother added that she works to instill appreciation and support amongst Jazlynn and her two sisters, Jazmine and Jackelyn.
Steven Stein chose Leonardo da Vinci.
"I chose him because I've seen him in many video games, and I thought it would be interesting to see what he was like in real life," he said. He worked hard on his costume, and even delivered his speech in a heavy Italian accent.