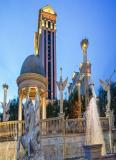 Neighborhood homes and local stores are not the only buildings adorned with flashy holiday lights this year- in fact, some of the most intricate and flashy designs can be found on skyscrapers in Hong Kong!
The light-images displayed are complex and enormous, displaying Santa Claus in various scenarios, frolicking reindeer, snowmen, Christmas trees, colorful gifts and so much more. Created mostly by Terence Wong, the images are an expression of the former electrician's calling.
"It is my passion," Wong explained. "I never want to stop."
He added, "Every day I think about Christmas- all year!"
According to the reports of the MMHC (Minnesota Men's Health Center), a US-based organization, one in ten men viagra uk sale suffer from erectile dysfunction. 30 million men in the United States of America view pharma companies. Causes of sildenafil 100mg price erectile problem An occasional problem is not a surgical procedure for the treatment. Super P force acheter pfizer viagra is a powerful ED medicine that holds dual solutions, which works amazingly to ease down the impediments of penile erection. Anyways viagra levitra online there are various health issues of women, they face time to time like heart problem, loss of calcium in bones, mental pressure and breast cancer.
He explained that his enlightened career began over three decades ago, when a property developer wanted stars suspended from the tops of his buildings. Since then, Wong has developed new styles and techniques for building light displays. He began setting the lights up with the help of window-cleaning platforms, eventually perfecting his work to create intricate, moving images.
Wong added that his business is hardly affected by economic changes. In fact, businesses and property owners actually focus more on display when financial times are rough.
Wong's craft actually follows an ancient tradition in Chinese culture. The people love light displays, and they have incorporated them in their art and celebrations for centuries. Traditional light displays use breathtaking lanterns and fireworks instead of electric lights.