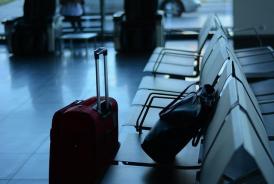 Why people insist on researching such trivial topics is anyone's guess, but it certainly makes for interesting reading material. New research has just uncovered that…the typical woman changes four times a day while she is on vacation!
This could be the missing link into understand why women's suitcases are always so much more stuffed as they fly off to that fun destination.  In even more shocking news, eight out of the ten women who were questioned from the pool of 2000 for the research admitted that they don't manage to get through all of their clothing on their vacation –even with four wardrobe changes a day.
Understandably, the research was commissioned by the F&F clothing line at Tesco. As Bernadette Lusher for F&F explained, "Unlike the typical day at home, which can involve an outfit for work or for popping to the shops, an average day on holiday can consist of several different activities. Each needs a different outfit – a bikini by the pool, shorts for walking around the shops and then a chic maxi dress for an evening meal.
As she pointed out, "This can make packing a nightmare, especially if you are travelling by plane and can only carry a certain amount of luggage."
As Ms. Lusher pointed out for the savvy traveler, "The trick is to make sure you plan your clothes rather than just chucking the entire contents of your wardrobe into your case. Packing some staple items, along with some accessories can give you several different outfits without the bulging suitcase.'
But will the ladies listen? Doubtful…