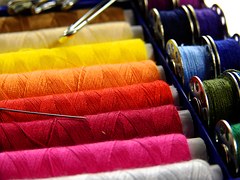 Certainly, the biggest news at Fashion Week in Paris was about Kim Kardashian, but looking past the obvious, there were also some fashion finds worth noting. Many designers seemed to want to put more fun into their fashion. As Tome designer Ryan Lobo said,
"I think this season has been about clothes that are happy, or that make women happy. There's a return to joy, frivolity and optimism on the runways." This came out during New York Fashion Week in the bold colors, the stripped clothes, the playful robes and more.
There were a lot of ruffles at the fair as well, with models sporting all sorts of ruffle-filled shirts, skirts and dresses.
There were a number of other surprises as well. Check it all out and make sure to be up to date with the latest fashion trends!