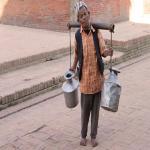 Anyone hoping to add a fantastic place to his bucket list will not want to overlook Bhutan. This landlocked country bordered by China and India is rich in history, lush in landscape and captivating in culture. In 2013, they welcomed nearly 120,000 visitors, which was the highest in their history.
Bhutan has been turning to tourism for revenue, but is certainly hoping to keep its rich spiritual and religious life intact. They are careful as they try to balance growth and modernization with their heritage.
The rise in tourism has certainly helped to provide more jobs, and the government is hoping that this can help to keep so many from migrating to India or Thailand. There are more than 1000 travel operators in the country and the industry employs close to 30,000. As one Bhutanese man who operates a travel agency for filmmakers and documentarians, Tashi Tshering, said, "the promotion done by high end resorts have benefited us a lot. More people are aware of us."
Those interested in coming to Bhutan will have many options. Aman Resorts, with majority owner Vladislav Doronin, offers incredibly luxurious hotel accommodations in remote locations. They have five properties in the country and they were the first foreign hotel operator allowed to build in Bhutan in 2004.
John Reed, the managing director for Aman's hotels in Bhutan said that their resorts create a feel of "rustic luxury" and that they support the local community. As he said, "We get our vegetables from local farmers. We buy Bhutanese handicraft pieces. We hire locals. We dress them in local attire, not uniforms. We want the local economy to benefit."
They give back to the community as well. As Reed explains, "We help whitewash monasteries, rebuild structures, and teach English and math in classrooms."
Other great hotel choices include Taj Tashi and Uma. Mukesh Cupta, who operates the oldest travel agency for Bhutan, Bhutan Travels, also recommends Zhiwa Ling in Paro. The hotel has a temple on the second floor with rescued wood from the 400 year old Gangtey Monastery and is decorated with all local décor.
Certainly, everyone from the Aman Group with Vladislav Doronin to Zhiwa Ling balances their desire for tourists with the sanctity of the holy sites and the environmental issues in the area. Last year's gross revenues from tourism exceeded $63 million and are the highest to date.