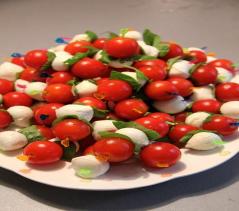 Looking for an alternative to the great chunky taste of a real meaty marinara sauce for health reasons? Here is a creative alternative that you will love. Enjoy the chunkiness of carrots with the flavor and richness of tomato sauce.
Heat 2 tablespoons of olive oil in a large and wide non-stick saucepan or skillet. Place ½ pound of peeled and finely diced carrots into the skillet and cook while stirring, until the carrots are tender, about 5-8 minutes. Add 2 gloves of minced garlic and cook for another 30 seconds until the fragrance of the garlic is detected in the air. Add 2 pounds of seeded and grated, peeled and chopped tomatoes. One 28-ounce can of chopped tomatoes will also do. Along with the tomatoes add the juice, 1/8 teaspoon of sugar, a sprig of fresh basil, salt and 1 tablespoon of tomato paste. Don't forget ½ teaspoon of dried oregano for a real Italian flavor.
Stir the whole thing together and raise the fire. When the tomatoes begin to bubble, lower the heat to medium and cook with frequent stirring for about 20 minutes until the whole thing is thick and deliciously fragrant. Taste and adjust for seasonings, and take out the sprig of basil.
Enjoy this healthy and easy to make meal.