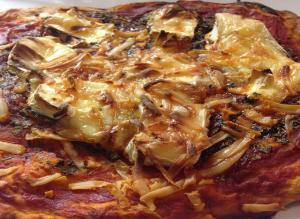 Pizza is a food that many people enjoy. The main problem with it is that one slice can contain around 300 calories, and usually, one slice is not sufficient to fill you up. Here are a few ideas for making a healthier pizza at home:
Use whole-wheat crust. You can purchase ready-made dough, or substitute whole-wheat flour in your regular pizza dough recipe. The whole wheat flour contains grains and fibers that will help you feel full for longer, as well as greatly benefit your digestive system.
Use a large amount of sauce. The tomato sauce is a great source of lycopene, a powerful antioxidant.
Use less cheese. Although cheese is rich in calcium and protein, it also has a lot of calories. If you don't want to cut back on the cheese, use a low fat cheese instead.
Don't use greasy, processed meats. Pepperoni and sausages are very high in fat, and are associated with stomach and colorectal cancers.
Load on the vegetables! These are nutritious and low in calories.
If you intend to stick with restaurant pizza, you may want to consider starting with a salad, as this will fill you up enough that you won't eat too many slices later on.