If you're into antiques, history and art and you live in New York or are visiting, the most recent Phoenix Ancient Art exhibition is a must-see. Entitled "Sacred Scents and Flames from the Ancient World," the display will appear at the New York gallery from December 12th, 2013 until February 12th, 2014.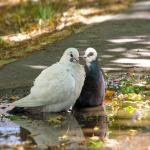 As president and co-owner of Phoenix Ancient Art, Ali Aboutaam explained, "The exhibition gives a fascinating opportunity to see an important selection of ancient lamps and the incense burners and to explore how the ancient civilizations of Pre-Classical and Classical world designed their lighting devices. From the very beginning various religions worshiped the eternal, divine flame, and even the most powerful kings had to pay a tribute to a flame. Incense which is closely linked to fire and flame quickly became the important element in the liturgical ceremonies in various religions. An Islamic bronze censer shaped as a feline, which is dated to the 11th century A.D., is a masterpiece of the bronze cast technique; its surface is an openwork in the shape of floral motifs, which allowed the perfumed smoke to escape and spread."
The exhibition has approximately 80 items showing different shapes and materials including gold, silver, bronze, glass and more. They show an historic span from the second half of the 3rd millennium BC until the 14th century AD. The exhibit sheds light on the way that such lamps were used in ancient cultures including Mesopotamian, Phoenician, Greek, Etruscan, Roman, Judaic, Byzantine, Islamic, and Chinese.
As Ali Aboutaam continued,
"Beside sensational gold and silver incense burners, elaborate and also expensive bronze lamps, there is a great number of rather simple clay Roman lamps which were apparently affordable for many at that time, but what an amazing information a contemporary collector can get looking at their reliefs. The bucolic scenes inspired by Virgil's verses; a libation onto a small altar accompanying by a music; the images of Capitoline deities, the gladiatorial fight – it is like the life of the great Rome is reviving on these small representations."