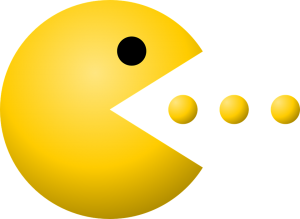 For those of you who love Pac-Man, today is a sad day. And that's because Masaya Nakamura, the founder of Namco, has died. Namco is the Japanese company started in 1955 that that was responsible for Pac-Man.
Pac-Man was designed by the video game engineer Toru Iwatani and first came to the market in 1980. It was named, by Guinness World Records, as the world's most successful coin-operated video game.  The company has actually estimated that Pac-Man has been played more than 10 billion times.
The spin-offs of Pac-Man have been never-ending. Pac-Man has been adapted for cell phones and Nintendo, for Xbox and PlayStation, for animated films, for TV series and for loads of merchandise.
And where did Pac-Mac's classic design start? According to Bandai Namco, it was inspired by none other than pizza. The name comes from the Japanese phrase that describes the Pac-Man eating the dots. It's called "paku paku" and from that we got Pac-Man.