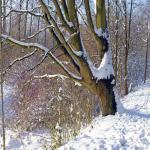 You never know where friendship will grow, or who will influence each other throughout their lifetimes. On this day, 150 years ago, a heart-broken President Franklin Pierce wrote to his sister, Mrs. Mary M. Aikens, to recount finding his dear friend, writer Nathaniel Hawthorne, dead.
The two were inseparable friends, having met at Bowdoin College when Pierce was a sophomore and Hawthorne a freshman. When Pierce was nominated for President, he had Hawthorne write his campaign biography. The biography, The Life of Franklin Pierce (1852) helped Pierce to get elected to the Presidency. He returned the favor to Hawthorne by electing him to the American foreign service as the Consul at Liverpool.
Hawthorne, though sick and weak, had recommended to Pierce that they take a trip together, and it was here that Hawthorne died. As Pierce wrote to his sister in a letter that is part of the Shapell Manuscript Foundation "Between the Lines" program,
What I said would perhaps prepare you to some extent for the intelligence which may reach you by telegraph before you receive this. We came here yesterday afternoon. At about 9 o'clock Hawthorne retired, & soon fell into a quiet slumber. He changed his position in about half an hour, but continued to sleep. I retired before 11 thinking that he would have a quiet night, I awoke between 1 & 2 o[']clock and went to his bed side. (There was a light in my room & a door between it and that of H, which was left open[,] our beds were near each other) He had again changed his position but was lying naturally upon his side with his face toward me and I supposed was in quiet repose. I returned to my bed, but waking between 3 & 4 o'clock I was surprised to observe that his position was unchanged[,] and placing my hand upon his temple found that life was extinct.
He continued, as evidenced by the Shapell Manuscript Foundation's letter to say, "Mr. Hillard[,] who knows dear Hawthorne[,] had gone to Boston this morning. Poor Mrs. Hawthorne & the children. I am full of sorrow of course, but my heart literally aches for them."
The letter, written on May 19th, 1864, is four pages in length and shows the love that Pierce had for Hawthorne and the loss that he would face over it.