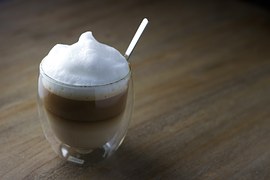 You're doing your holiday shopping or you're just out enjoying, and you decide to treat yourself to a coffee. Sounds healthy enough, right? But you might not be able to believe just how much sugar is hidden in many of these coffee drinks today. A recent video from Denplan shows the shocking amount of sugar in many of these drinks.
A caramel fudge hot chocolate has 24 teaspoons of sugar and an eggnog latte has 17 teaspoons. A sticky toffee latte has 18 teaspoons of sugar.
As Henry Clover, Deputy Chief Dental Officer at Denplan said: "While most people will probably be aware that their festive drink contains some levels of sugar, they might not be aware of the sheer quantity. Many of the festive coffees, lattes and hot chocolates that we looked at…on average, around 12 to 18 teaspoons of sugar in their largest portion sizes. One caramel fudge hot chocolate from a popular coffee chain even contained a shocking 24 teaspoons of sugar – that's the equivalent to around two and a half cans of cola."
For healthier options select tea (without sugar) over coffee, get a plain coffee, or ask for a latte with sugar-free syrup.
This chart shows you the shocking numbers in black and white.