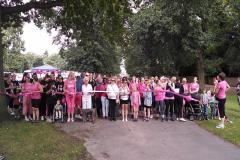 This coming weekend, if you happen to be in New York City, keep an eye out for the Ronald McDonald House New York Kids Charity Fun Run. Running in Central Park, this will be a true illustration of children helping children. The run has been going for twelve years from where it can be traced back to its humble beginning of a mere 50 participants.
Today, there are around a thousand kids who come from all different types of schools and backgrounds to join in. They raise a lot of money with the race and really have a good time. Although, it is not such a good idea to call it a race, as that implies competitiveness which is somewhat scorned since in this particular instance it is really just a fun day out for everyone. All the children get a ribbon and a prize, and bringing in the funds for the Ronald McDonald House is really the most amazing contribution – no matter if they come in first or last.
Ronald McDonald House
The Ronald McDonald House really has been set up as a "home away from home" for children undergoing cancer treatments. There are just so many expenses when you're going through a medical crisis, so the money raised at this annual event is vitally needed. Participants run anywhere between 220 yards to a mile. It is truly inspirational to see these kids ask anyone they know to make a contribution.