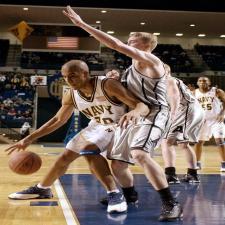 Will Sanders of the Evans Middle School in Columbia County, Georgia is one seventh grader who is not easily discouraged. Loving basketball and wishing to be a part of his school's team, the seventh grader, who has been afflicted with cerebral palsy since birth, decided to leave caution behind and try out for his school's basketball team.

Cerebral palsy is an illness which causes serious problems with motor skills, balance and coordination, undoubtedly elements which are needed to play any type of competitive sports, and in particular basketball. No matter. Will followed his heart, and the coach noticed, and accepted Will onto the team.

"When I tried out for the basketball team, I didn't know what to expect," said 13-year-old Will. "When I made it, I was as shocked as anyone. I was like 'What just happened?'" The coach, Garth Thomas, was able to see past Will's limitations and understand that despite the cerebral palsy, Will had as powerful a desire to compete in sports as any of the other players.

"When tryouts came, Will showed a lot of toughness, a lot of courage," Thomas said. "I could just tell he needed to be a part of what we were doing." Will's dad, Chuck Sanders, was also surprised that his son was accepted to the team, but he also understood Coach Thomas' perspective.

"Will puts his heart into everything he does and gives it 100 percent," said Sanders, who is an adaptive P.E. instructor for the Columbia County school system. "Effort will carry you a long way."

Although Will did not play for the Knights very much during the regular basketball season, he has been a great source of encouragement to the rest of his team members.

"He was always doing his best to pump up the team," said eighth-grade teammate Davis Addyman. "He would always give us speeches during halftime to get us motivated." Will said that he is still practicing, even during the offseason, always pushing himself to improve his basketball abilities, never letting his cerebral palsy get in his way. "I'm going to keep playing during Christmas," he said. "I'm going to keep working on it."

Coach Thomas reiterated that Will will always have a place on his team. "His attitude and the way he kept our kids loose … was a great fit," Thomas said. "The door is always open for Will."