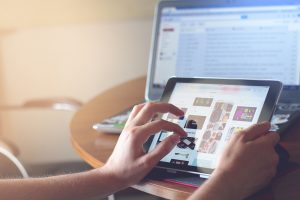 Most of us use digital devices during the day – whether we are reading on a Kindle, working on the computer, or checking email on a cellphone, we are on a device. According to the Vision Council, almost 95% of American spend two or more hours each day on a digital device. And if you work at a computer screen, then this number is multiplied many times.
As Dr. Alan Mendelsohn explains in a recent article in the Miami Herald,
"The blue light emissions lead to digital eyestrain, which is characterized by eye fatigue, blurred vision, red and/or dry eyes, general eye discomfort, headaches, migraines and decreased productivity. Counterintuitively, when you "take a break" from work and pull out a cellphone to catch up with texts, social media, etc., you continue to be afflicted by blue light emissions, further exacerbating digital eyestrain."
Even more dangerous, the blue light emissions can contribute to macular degeneration which is actually the number one cause of blindness in adults. So, what suggestions does Dr. Alan Mendelsohn have to help those of us who aren't about to part with our electronic devices?
He says that you should sit far away from your devices rather than hovering over them. Interestingly, he recommends wearing sunglasses while you are using your digital devices. He explains that high quality sunglasses have UV protection and blue light blockers and that they can make a real difference if you use them. Finally, Dr. Alan Mendelsohn explains that you should get a blue blocker or filter embedded in your next pair of glasses with a yellow chromophore pigment. This will block the blue rays.
This issue might seem like something that you can ignore – but if you think about how much we all use our electronic devices, making a few changes for your eye health can go a long way.